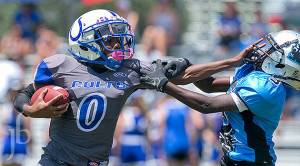 What ended up being a brutally hot day in Oldsmar started with the equally hot Pee Wee squad's 19-0 shutout of the Panthers. Our Pee Wees were in control all morning and never let up.
The Colts Super Midgets looked nearly perfect during their 39-6 romp over the Panthers. Our defense was in charge all morning and the offense was proficient.
The third game of the day featured the Midgets posting the second shutout of the day and the second running clock! It was hard to find a single fault in their game today.
Lastly, the big Varsity squad also forced a running clock en route to the fourth Colts victory of the day and completing the sweep, 38-6.
Action photographs from the game are being uploaded now to James Broome Photography's website.